CHAIRMAN'S REPORT

Well, the election is over instead of less chaos we could have more! But life goes on. Locally we are equally confused as to the future of the local plan. The essential questions are:
· Will the sewerage system cope, without spillage with all these new houses?
· Can the water supply and distribution system cope? We already experience variations in water pressure. Will we get another water tower?
· How will local traffic grid lock be managed?
· When are the potholes to be repaired, before they are made worse, by the increase in traffic?
· How do they plan to cope with air pollution?
Basildon do a good job mowing the grass verges but can they do more for the blocked drains in the road, essential with the potential for more flooding. Why are planners allowing house building on flood plains and Green Belt land? There are plenty of brown field sites that can be used, but that means less profit! It is about time we controlled this excess-profit motive, look at the ridiculous house prices in this country compared with Europe!
When our green belt goes we lose forever farm land and recreational land for walking and relaxing, if we hope to keep a sane population and pleasant communities to live in. Farmed land and Green Belt should be protected as a national, strategic natural resource. Land is a non-renewable resource.
The trains are already over-crowded, when will they build longer platforms at Billericay? When will commuters rebel about being treated worse than cattle? When we leave Europe we should have flexible working hours to minimise the daily rush-hours of congestion. If we are controlling immigration why do we still need all of these "projected need for houses", made from the past when immigration was out of control? We certainly need more apprenticeships to train people with usable skills and provide useful
experience in industry to enable the country to create money and survive
Tree Charter
Thank you to all those who signed the Woods and People Tree Charter from the Woodland Trust. The urban forest includes trees in streets, avenues, local parks, on church land and in local woods. The benefits of trees in urban areas are many.
· Trees replace oxygen in the atmosphere and recycle water through transpiration, they can also absorb pollutants.
· They provide contact with nature and the seasons.
· They improve the attractiveness of urban environment and the quality of everyday life.
· They raise pride of place by enhancing the landscape.
· They complement architecture.
· They provide screening and relief from stress
· They reduce noise, provide shelter and urban wildlife habitat.
The Society has successfully campaigned in the past to preserve the ancient woodland of Norsey Wood and Queen's Park which are now well managed by Basildon.
On a map published in 1939 on display at a recent meeting of Billericay Society, opposite the workhouse there was a reference to a "Public Assistance Institution". This caused some head-scratching. Fortunately a lady at the meeting googled it, to find it was a reference to the workhouse management committee. This was the first time I had come across this reference with respect to the workhouse. One never knows where one will find new information. Since members showed such interest in this 1939 map the committee has decided to try to display an old map of Billericay at future social evenings. We hope this will be of interest to members.

Chairman's Occasional Series
The History of Writing
Pre-history Billericay: that is before writing was developed, was a time when we have to rely on archaeology, foundations, artefacts, and flint tools etc. to determine what happened before written records. Writing was developed some 3500 years ago in the area of the fertile crescent of Mesopotamia, the land between the Tigris and Euphrates rivers, now known as Iraq. Cuneiform writing was developed in this area of the Arabian Peninsula/Levant for trading. During the same period hieroglyphics were being developed in Egypt and scrolls for marking vessels were used in the Indus valley. A triangular ''wedge shaped" plant stem was used to make agreed marks in a soft clay tablet. The tablet was then baked to preserve the information. This text was called cuneiform writing by archaeologists because the Latin for a wedge is cuneus.
Norsey Wood
This wood is 300 feet above sea level and covers 165 acres. It was originally 200 acres but 35 have been used for housing. The soil is, sand and gravel (bagshot beds), over clay-gate with a base of London clay.
There is evidence of woodland management since ancient times by coppicing and pollarding.
Coppicing is an ancient technique that involves cutting back young trees to ground level so that a new shoots are produced. These shoots are pollarded in turn when they reach the required height. In this way ultimately, over a period of hundreds of years, a circular crop of saplings is produced all directly descended from the original tree after the original tree has died. When walking in the woods one can see evidence of this technique, with the many trees having several straight trunks coming out of a stump.
Pollarding is a pruning system in which the upper branches of a tree are removed, promoting a dense head of foliage and branches. Pollarding in Ancient Rome was mentioned by Propertius during the 1st Century BC. It has been common in Europe since medieval times and is practised today in urban areas worldwide, primarily to maintain trees at a predetermined height.
Traditionally, trees were pollarded for one of two reasons: for fodder to feed livestock, or for wood. This is not a practice to use if one wants an attractive, natural tree as the natural growth is stunted. One consequence of pollarding is that pollarded trees tend to live longer than unpollarded specimens because they are maintained in a partially juvenile state, and they do not have the weight of the top of the tree.
Older pollards often become hollow, so can be difficult to age accurately. Pollards tend to grow slowly, with narrower growth rings in the years immediately after cutting.
Saxons preferred open space and farmland to towns and so developed the Great Burstead and Little Burstead areas rather than the settlements on top of the hill. This area was cleared of trees during the hominid transition from hunter-gathers to farming and agriculture in the late Stone Age.
David Bremner
Chairman, Billericay Society
---
MAYFLOWER III
This is a further upgrade of my original September 2013 upgrade and contains little good news.
The oak tree from Cornwall has proved to be unsuitable for the keel, so an alternative source had to be found. It has been laid and the stern post and a set of ribs fitted.
Since January this year very little has been achieved. Both the Chairman (Tom Dayly) and Vice-chairperson (Linda Chase-Gardener) have stood down. In February the Mayflower Project lost its USA charity status, stating they had ''let it lapse''. Not a good sign. By April there was still no sign of ship building and there was a ''temporary closure of the Training School. In May the Hardwick held an ''open session'' for members of the public. A professional examiner of shipbuilding training was present at the meeting and stated: ''The build is not likely, especially as the structure as it stands will not pass scrutiny. Thus the build would have to restart from scratch and I cannot see that happening''. The Project stated that they have set a cut-off date of May 2018, which will see the Project unable to build a ship. It was said that if this is the case, the Project will revert to ''Promotional Activities'' for the 2020, four-hundredth anniversary.
In June the Project's opening hours for visitors were reduced from 9.00 to 5 00pm to 9.00 to 1.00pm. The Mayflower Project has stated that they will have to consider abandoning all plans to build a ship if they do not have funding by March 2018. Not only are donations urgently needed, the craft skills and management to build it may not be available for the project to continue.
John Humphries

---
EVENING SOCIALS
For the February meeting Margaret Mills told us of Edward VIII's treatment by his family and the country both before and after his abdication and the reaction to his marriage to a twice divorced American.
Following the AGM in March Mike Brown brought items from his collection Second War material for his talk on the evacuations during this war.
As a result of the Council cancelling our longstanding Day Centre booking in April, Linda Holdaway's interesting talk on the National Garden Scheme had to be held in the Reading Rooms.
Carol Harris presented an illustrated talk on refugees in May. While Street Pastor Phil Norton told us that street pastors are trained volunteers from local churches who care about their community. They patrol in teams of men and women, usually from late evening until the early hours, to care for, listen to and help people who are out on the streets.

WALKS
On Tuesday the 11th April the Billericay Society walkers met at the Horse & Groom public house, Rochford. On leaving the pub we followed the River Roach to where it goes into the estuary at Broomhills, which is the site of derelict grain silos. From there we followed the footpath out onto the sea wall, catching site of peacock and orange tip butterflies. We followed the sea wall until we reached Great Stambridge Hall, after taking refreshment (see photo) we made our way back to the Horse & Groom having walked about 4 miles, we all enjoyed some food and a well-deserved drink.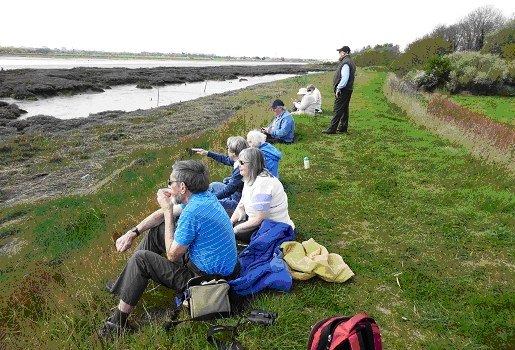 Bob Reeves
Following this walk, on 23rd April, Doug Smith lead a walk to Fitzwalters, an 18th century minor mansion and farm, now known as the Courage Farm. We met at Mountnessing windmill car park, and, as a result to Doug's contacts, were able to walk estate paths not normally open to the public. Lunch was taken at the Prince of Wales.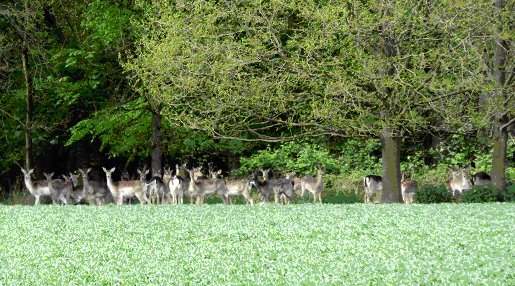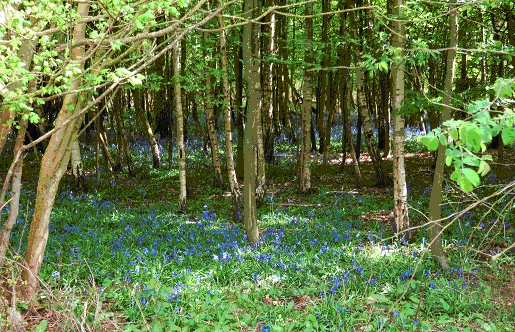 Doug Smith
In May walks were held in Hockley and Maldon.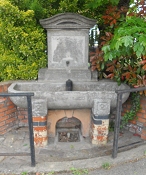 The Hockley walk, from the Bull, included Hockley Woods, the parish church of St Peter & St Paul and this Victorian drinking trough. It is owned by the house it stands in front of, on the corner of Folly Lane and was built for a Miss Tawke to provide drinking water for horses coming up from Hockley Spar. The Maldon walk was from Madison Lanes on the southern outskirts of the town. Heavy rain forced the Herongate walk to be cancelled in June. While very warm weather prevailed for the walk from The Anchor, Danbury, to Runsell Green at the end of June.
Programme
Close to the date of the walk, check with the chairman, or our website, for any changes. Before setting out please check the walks listing and note the walk starting point. Most walks start at 10:00am and may cross stiles. Suitable clothing should be worn. Footwear should reflect the weather conditions and the state of the ground. No dogs please. If you use a pub car park please at least have a drink, if only a soft one.
Note: Some of the dates for the first walks on this list are changed from those on the previous newsletter
18th July Hatfield Peverel: park at The Wheatsheaf, 01245 380330, CM3 2JF. David Bremner to lead
1st August Great Burstead: park at The Kings Head, 01277 637135, CM11 2PS. Ian Fuller to lead.
15th August Fyfield: park at Black Bull, CM5 0NN, 0871 951 1000. John Humphries to lead.
29th August Herongate: park at the Old Dog, CM13 3SD, 01277 810337. David Bremner to lead.
12th September Mill Green, Ingatestone: park at The Viper, CM4 0PT.
26th Sept 2017: Leigh Station, pay car park. Walk to Southend starting 10:30.
10th October Canvey Island: park at the RFC ground, Climmin Road. Lunch at the Hoy & Helmet, South Benfleet 01268 792307.
24th October Runwell: park at the Quart Pot
01268 578091, GR 757 945. SS11 7PN
7th November Gooseberry Green park at the Inn on the Green, walk to St Giles Church, Doug Smith to lead.
21st November West Hanningfield: park at the Three Compasses 01245 400 447 CM2 8UQ.
5th December Christmas Social, pre-walk. Venue to be arranged, suggestions welcome.