CHAIRMAN'S REPORT

Many thanks to all those who wished me well. It is good to be back. I am now "A½", so not quite "A1" yet. My special thanks go to Julie and Doug Smith for keeping everything chugging along with the support of other members of the committee, including Ian Fuller, for producing a Newsletter.
My short sabbatical was due initially to me experiencing a sudden, acute urinary retention, whilst on a cruise. This, in some ways was fortuitous, as they have doctors and a medical centre on board for immediate attention. This incident happened without any warning early in the morning. At the age of 77 I suspected it might happen one day. Once ashore the NHS was very good and helpful, Basildon Hospital deciding that l required: Holmium Laser Enucleation of the Prostate, (surgery without cutting or dissection). I was discharged on the morning of the third day. My three months away was due to complications and I needed to take a rest and deal with some personal matters.
Lesley and John Humphries with Doug Smith ensured that the recent walks were clear of obstructions. We have to try to avoid stiles now; and have reduced the length of walks to less than four-miles.
A Metric Moan
The metric system was first used in France in 1795. We held out for over 200 years. When did "kilometres" creep, seemingly officially, into our measuring system? Ordnance Survey map scales are now also metric.
Metre is from the Greek metron, meaning ''measure''. So, I thought I ought to find out a little more about the history of metrication in the UK. Here comes the boring political bit or, how to spend money and achieve nothing.
The metre was originally defined as the length of one ten-millionth part of the quadrant of the Earth's circumference. That is the distance between the Equator and the North or South Pole.
A Private Member's Bill was put through Parliament in 1854 to adopt the metre. It was a permissive Act, ie not enforceable. Parliament considered that metrication would work its way gradually into commerce and manufacturing. Opponents of the Bill disliked its "foreignness" and considered that the "labouring man" would still want his "pint".
The Bill failed completely as far as commercial use of the metric system in the UK was concerned. The metre was, however, recognised as legal in contracts.
A further attempt at metrication was made in 1907. But it took until 1963, when the British Standards Institution restarted efforts to stimulate a discussion into the introduction of metrication. The majority view was that metrication was inevitable. A metrication Board was set up in 1969. Again little happened as the findings were, as before, were permissible, not mandatory. By then some £11,000,000 had been spent.
AGM and Subscriptions
Members are reminded that the 15th March meeting will start at 7.30pm for the AGM. Also, that subscriptions became due on the first of January.
Zeppelin Memorial
We have to apologise to Billericay Town Council who planned and organised a ceremony and memorial to commemorate the centenary of the Zeppelin L32 crash on Snail's Farm. We incorrectly gave credit for this event to Sylvia Kent for which we apologise for misinforming you, our mistake.
Billericay Community Archive
Billericay Community Archive Group, BCAG, recently established a website devoted to Billericay history at: www.billericayhistory.org.uk. The site was established in partnership with Essex County Council libraries, and the Essex Record Office. It is run by volunteers and funded with a grant from the Heritage Lottery Fund. Several committee members are in Billericay Library on the second Monday of each month between 10:30 and 12:30. They are there to provide help and answer questions Many articles have been contributed for the web-site. .
There are no costs involved by you to participate, so become a part of Billericay's history. Think how useful it would be to you, if you are researching your family tree; if more communities did this. So please play your part and help us to record life in Billericay.
Billericay has a long and interesting history. There is now an opportunity for you to submit your memories on the Archive website. You can do this on an A5 page, together with copies of your local photographs, to be recorded. We want you to record personal memories, opinions; or experiences of living in Billericay, either today or in the past. Mr and Mrs Heinson have both provided articles: Billericay 1959 to 2015 and The East Side of Billericay High Street.
You can email or, write about a particular memory, place, experience, or piece of local knowledge. You could also allow us to copy on the website your family pictures and local buildings that no-longer exist, with a few words as a caption to the picture.
Please have a look at the web-site, www.billericayhistory.org.uk, any useful feedback would be appreciated, and please make a contribution to increasing our local knowledge of Billericay. The website also provides details of how to download your article and pictures.

David Bremner
Chairman, Billericay Society
---
EVENING SOCIALS
For the October meeting volunteer dog walker Brenda Weaver brought a trainee guide dog with her. She told us that guide dogs take three years to train, the first with a volunteer walker, followed by two further years of advanced instruction. If they fail at any stage they are offered back to their volunteer walker. Successfully trained dogs retire after five years. If their current owner then does not want to keep them, they are offered back to their original volunteer walker. Also mentioned was a guide dog costs £5000 to train and that the Guide Dogs Association is run entirely by volunteers.
In November Chris Huggins told of how he became disenchanted with office work. Opting out, he swapped his office desk for the open air, as a tree warden in Norsey Wood.
For the December Christmas Social the Morley sisters, both members of the society, provided the entertainment. Following the meal Clair, on the clarinet, and Sue, on the piano, individually, and together, provided a varied selection of music. The evening culminated with Clair prevailing on some members of the committee to present an unusual animated version of an old Christmas favourite: The Twelve Days of Christmas.
Brian Carline returned for the first meeting of the new Year in January. He presented an amusing talk of his experiences as a pre-teenager living in a Manchester suburb just after during and after the war.

---
WALKS
As a result of David Bremner not being available the year started with a series of short local walks not included in the last newsletter. We hope to return to normal with the following walks programme.
Programme
Close to the date of the walk, check with the chairman, or our website, for any changes. Before setting out please check the walks listing and note the walk starting point. Most walks start at 10:00am and may cross stiles. Suitable clothing should be worn. Footwear should reflect the weather conditions and the state of the ground. No dogs please. If you use a pub car park please at least have a drink, if only a soft one.
14th February: Stock, park at the Bakers Arms, CM4 9NF, 012545 841831. Choice of walks from eleven possible depending on the weather. To be cancelled it if it is raining, snowing or cold. John Humphries to lead.
28th February: Galleywood, park at the Horse & Groom CM2 8PG, 01245 261653. Walk to Killegrews for the start of the shooting season. David Bremner to lead.
14th March: Danbury, park at the Cricketers Arms. CM3 4ED, 01245 222022. Various options available depending on the weather conditions. Doug Smith to lead.
28th March: Fobbing, park at the top of the hill before the White Lion SS17 9JR, 01375 673281. David Bremner to lead.
11th April: To be arranged'
25th April: To be arranged'
9th May: Hockley: park at the Bull: SS5 4RN, 01702 203 122. Countryside views on the way to St Peter & St Paul church. Doug Smith to lead.

23rd May: Madison Heights, Maldon. CM9 5JQ, 01621 850222. John Humphries to lead.
6th June : Herongate: park at the Old Dog, CM13 3SD, 01277 810337. David Bremner to lead.
20th June: Runsell Green: park at The Anchor, Danbury, 01245 222457, CM3 4QZ. David Bremner to lead.
4th July: Purleigh: park at The Bell, CM3 6QJ, 01621 828348, GR 842020. Doug Smith to lead.
18th July: Great Burstead: park at The Kings Head, 01277 637135, CM11 2PS. Ian Fuller to lead.
1st August: Hatfield Peverel: park at The Wheatsheaf, 01245 380330, CM3 2JF. David Bremner to lead.
15th August: Fyfield: park at Black Bull, CM5 0NN, 0871 951 1000. John Humphries to lead.
29th August: Coalhouse Fort, East Tilbury: park at The Ship, RM12 8PB, 0375 843041. David Bremner to lead.
WALKING GROUP
So far this winter the group walked nearly every fortnight, missing out on a few due to the weather and of course New Year.
Numbers varied but mainly there were usually about fifteen walkers. Lunch was enjoyed, of course, in the pubs where we started. Here some former walkers joined us for lunch. Very sociable and enjoyable times were had. If you would like to join us the venues are shown in this newsletter.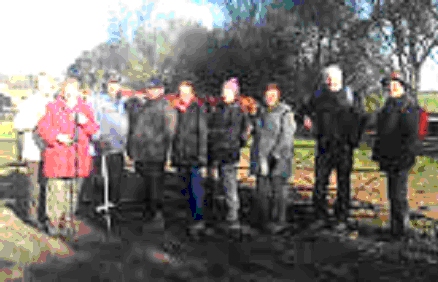 If you would like any more information you can call David Bremner or Doug Smith. Their telephones numbers are listed in this newsletter.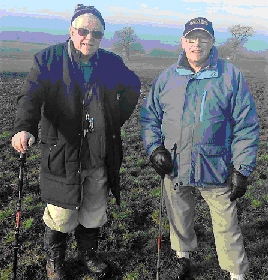 The Chairman & Vice-Chairman -Somewhere in Essex

Julie Smith

ELISABETH COTTAGE
On Monday 6th February I attended the Connaught Rooms in Holborn to witness the auction of Elizabeth Cottage. There was a lot of interest in the building and bidding was brisk. In the end it went to a local builder/developer for £356.000.

After the financial dealings were done I met up with the successful bidder and had a very frank discussion on his plans. I came away feeling that all those long years campaigning to protect and save the building had not been in vain. The cottage will be turned into two retail shops on the ground floor with flats upstairs and to the rear, retaining the dormer windows to make a building fit for our High Street.

Bob Reeves

AN AIRSHIP DOWN IN BILLERICAY
When WW1 broke out on August 4th 1914 it was thought that the German airship bombers would dominate the sky over England wreaking havoc to our cities. However, it wasn't until January 10th 1915 that military targets in England were approved. Great Yarmouth and King's Lynn were both targeted first and bombed on the night of 19/20 January 1915.
For the next 20 months the German Army Airship Service and the German Navy Airship Division mounted over 35 raids on the British Isles with virtual unopposed freedom of the sky. Raids took place at night and during the dark phase of the moon.
The RFC primary aircraft available to defend our sky was the BE2c biplane, already inferior on the Western Front to the Fokker monoplane. Search lights and anti-aircraft batteries were also involved but were only effective if the airships were not too high.

Once the Zeppelin bomber raids began in earnest it became very obvious that something had to be done. A network of Royal Flying Corp (RFC) fighter airfield squadrons were stationed around London. Despite the number of defence networks, airship raids continued unopposed.
Our dear little fighters could not fly high enough to shoot them down and conventional bullets would go straight through the airship skin. The crew would seal the holes very quickly. It wasn't until we developed incendiary ammunition that we had more success.
At least three airships attacked London on the night, 23/24th September, L33, L31 and L32 among them. L33 was badly damaged by ground fire and then repeatedly attacked by a BE2c aircraft to bring it down. L31 after dropping bombs on Brixton and Streatham managed to get away after seeing the demise of L32 in the night sky.
L32 was now nearing the River Thames, it was spotted and a fighter squadron based at Sutton's Farm, Hornchurch, was notified. Sec Lt Frederick Sowrey aged 23 climbed into his biplane and coaxed it up to 9000 feet. At 00.45 hours Sowrey spotted L32 as it hovered over the Tilbury, before evading the search lights and climbing. Sowrey was able to fly under the tail surfaces and emptied an entire drum of incendiary rounds along the length of the airship's hull. Expecting an explosion or fire, nothing appeared to happen. Loading a second drum he tried again but came under heavy return fire. Loading a third drum he concentrated his fire in one spot. The interior of the airship then lit up like a huge Chinese lantern.
Sowrey returned to base and landed safely at 1.40 am fearing that the flaming wreck may have hit houses and killed people. It came down on Snails Farm, South Green, Billericay. Its target was London, but because of an anti-aircraft barrage, it dropped its bombs near Purfleet and attempted to make its way back to Germany. There were no casualties on the ground, but all of the L32 crew of 22 were killed.
The crew members were all identified and buried in Great Burstead churchyard with full military honours. In 1962 they were transferred to the German War Graves Cemetery at Cannock Chase, Staffordshire.
On that night of 23/24 September 1916 the loss of two modern Zeppelins over Essex came as a heavy blow to the German Navy Airship Division.
Frederick Sowrey was later awarded the DSO. He died in 1968 aged 75.
Billericay Town Council was honoured to receive Air Marshall Sir Freddie Sowrey, (94), son of Second Lieutenant Sowrey, together with his sister to the ceremony. He unveiled a memorial stone to commemorate the centenary of the event. Also present was the nephew of the Zeppelin's radio officer, Herr Ralph Bottscheller, who flew in from Germany for the ceremony.
A few remnants of L32 are on display in The Cater Museum, Billericay High Street.
The only surviving WW1 aerodrome is at Stow Maries, near S. Woodham Ferrers, and is well worth a visit.

John Humphries
SUBSCIPTIONS
Please note that subscriptions for 2017 become due on the 1st January.
A banker's order form can be accessed by clicking here.